WHC UnoCardio 1000 + vitamin D 1000 (OMEGA-3 fatty ac >
UnoCardio 1000 with a pharmaceutical degree of cleanliness without saturated fatty acids!
Now with an improved EPA/DHA ratio 675/400 mg per omega-3 capsule
NEW with fish gelatin capsules instead of beef gelatin
High dose of omega-3 with 1200 mg of omega-3 per capsule
1075 mg of that being pure DHA and EPA omega-3 per capsule
EPA and DHA in their most active form as rTG (=Reconstructed TriGlycer >

Buying more is worth it! (Price update in the cart)
2 pieces
3-5 pieces
from 6 pieces
€39.47
€38.15
€37.27
In stock (can be backordered)
Uncategorized (0)
Radiation protection (133)

Adapter (2)
Assessments (2)
Bed & couch (6)
Canopy (9)

Test & rent (2)
All-inclusive set (3)

Car key (2)
Cell phone case (11)
Clothing (5)
Connecting cable (7)
Demand switch (4)
Dirty electricity (2)
Electric installation boxes (8)
Electrosmog chip (3)
Grounding (13)
Headset & Headphone (3)
Laying cable (2)
Magnetic field (2)
Measuring equipment (6)
Multiple socket outlets (7)
Natural radiation (4)
RF >(12)
Shielding accessories (16)
Shielding fabric (11)
Shielding mesh (10)
Shielding paint (7)
Sleeping bag (2)
Wallpapers / Plaster (0)
Window films (5)

Light (26)

Bulbs & LED (7)
Lamps & Luminaires (12)
Flashlight (1)
Accessories (4)
Measurement (2)

Healthy sleeping (11)

Mattress (4)
Pillows (2)
Spare cover (3)
TraWuKu (2)

Body care (15)

Mouth & Teeth (2)
Offers & sets (3)
Skin & hair (6)
Sun protection & after-sun care (5)
Tapes (2)

Household (20)

Accessories (6)
Cleaning (7)
Household set (3)
Maintenance (2)
Washing (3)

Nutrition (34)

Austrian cheese (6)
Food supplements (18)

Evalar (0)
gaia herbs (2)
now Foods (5)
WHC (4)
Further (6)

CBD (Cannab >(0)

CBD oil (0)
CBD capsules (0)
CBD e-liqu >(0)
CBD skin care (0)
CBD for pets (0)

Healthy water (4)
Spelt pasta (7)

Specials (6)

Knife (1)
Sk >(2)
Vouchers (2)

Amazon (12)

Baby monitor (1)
Dental care (2)
Telephone (3)
Incense (6)

Pet food (6)

Cat food (3)
Dog food (3)

Literature (4)
Hot Deals (11)

>(1)
Gift >(8)
Offers (3)

Further education (0)
UnoCardio 1000 + vitamin D 1000 by NUTROGENICS
Unsaturated animal omega-3 fatty acids in the form of EPA and DHA are essential parts for the development of each cell in our body. The brain, as well as our eyes, need high quantities of DHA. Omega-3 fatty acids play a central role in the development and growth of the nerve cells and are vital for stress, pregnancy, and growth. All of the other cells in the body store EPA in their, and can, therefore, have a positive impact on bodily functions such as blood pressure, heart function, and vision. The carbohydrate and fat metabolisms are also regulated naturally through the balance of different fatty acids in our organism.
High-dosage omega-3 + vitamin D, without saturated fatty acids
UnoCardio 1000 + vitamin D 1000 contains 1200 mg of the best and high-dosage omega-3 fatty acids in tandem with an additional 1000 IE vitamin D3 per capsule. This premium omega-3 preparation was created by a patented CO2 low-temperature extraction at 35-50В°C. Contrary to fish oils obtained by molecular distillation, which are heated up to 160В°C, the different omega-3 acids remain fully intact during this careful extraction process and are ideal for our body.
suitable for
costs der day
Contents
1200 mg OMEGA-3 (rTG)
675 mg (EPA)
400 mg (DHA)
1000 IE VITAMIN D3
Many cheap omega capsules only contain 30% to 60% of omega-3. UnoCardio 1000 contains a hefty 95% of pure omega-3 fatty acids. All of the saturated fatty acids were removed by the low-temperature CO2 extraction.
UnoCardio 1000 capsules receive > 1000 mg of pure DHA and EPA with a ratio of 675/400 mg in the form that is best for our body (R-Triglyceride) with 25 mcg of vitamin D3 (the "sunshine" vitamin) in just one capsule.

Why Omega-3 with vitamin D3 in one capsule?
Vitamin D3 contributes to healthy bones and muscles and support the immune system. A high-quality and high-dosage omega-3 preparation in tandem with 1000 IU of vitamin D per capsule can optimally supplement the positive properties of omega-3 fatty acids on your health.
Omega-6 to Omega-3 ratio
The human body can only work optimally when its cells have an omega-6 to omega-3 ratio of about 5:1 to 2:1. The so-called omega-3 index, which is used to measure the amount of omega-3 in the membrane of the cell, should be at least 8%.
Our average diet has a omega-6 (linoleic acid) to omega-3 (EPA and DHA) ratio that is too high (12:1 – 25:1) because of an increased consumption of vegetable oils that contain omega-6 (sunflower oil, corn oil, safflower oil, wheat germ oil) and an excessive consumption of grains, as well as animal foods with high levels of saturated fats.
UnoCardio 1000 + vitamin D 1000
Can play a supporting role in rebuilding the balance of saturated and unsaturated fats as well as the balance of omega-6 and omega-3 in our body or blood. UnoCardio 1000 by Nutrogenics is an omega-3 preparation with an exceptionally-high dosage of > 1000 mg eicosapentaeonic acid (EPA), as well as docosahexaenoic acid (DHA) per capsule.
Natural raw materials from sustainable fishing
The fish oil used for the QuattrO3 + PSВ® come from sustainable fishing. Mackerels, sardines, and anchovies are the only fish used, as they are not endangered species.
WHC Nutrogenics fish oils are FOS certified. Friend of the sea (abrv: FOS) is an international non-profit organization that has taken it upon itself to preserve the global marine habitat. FOS operates leading certification projects that check the sustainability of fishing, as well as omega-3 fish-oil products.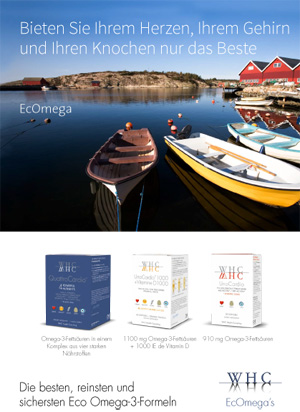 UniCardio (pdf) to download
Daily requirement and dosage of UnoCardio 1000 omega-3 fatty acids
One omega-3 capsule of UnoCardio 1000 already offers > 1000 mg of the most important omega-3 fatty acids, EPA and DHA, and contains no saturated fat. With this pure and high dosage of EPA and DHA per capsule, one capsule of UnoCardio 1000 per day is enough to get a high or optimal daily dosage of 1000 mg of EPA and DHA.
One of these easy-to-swallow gelatin capsules a day during a meal is also optimally dosed for a long-term primary prevention.
For higher daily dosages in defined periods for specific, we recommend that you speak with your doctor, therapist, or pharmacist.
In order to optimize the bodily intake of the ingredients, it is recommended that UnoCardio 1000 always be taken with foods that contain fat, such as a yogurt or healthy vegetable oils, such as high-quality olive oil!
More details on UNOCARDIO 1000 + VITAMIN D 1000 To Nutri-Direct
Get professional advice or go to your doctor during pregnancy, the breastfeeding period, or while taking medication. Keep away from children. Store in a cool (do not freeze) and dry place. Do not exceed the daily limit. Food supplements are not a substitute for a balanced and varied diet.
Omega-3 fatty acids: 1200 mg
of which EPA (Eicosapentaenoic acid): 675 mg
of which DHA (Docosahexaenoic acid): 400 mg
of which other omega-3 fatty acids: 125 mg
Vitamin D3 (Cholecalciferol): 25 mcg
Omega-3 fatty acids (71%; from deep-sea fish oil concentrate from anchovies, sardines, and mackerels) | Fish gelatin (capsule shell) | Humectant glycerin | orange aroma | Antioxidant: rosemary extract | Antioxidant: tocopherol-rich extract | Cholecalciferol (Vitamin D3)
Recommend this product and buy it cheaper
We want to make our healthy products available to as many people as possible. We do a lot to achieve this, but we also trust our customers to talk about our products. And we thank them for that with € sums – through this Recommendation Bonus Program. Each new customer that orders with us and is recommended by you is profit for us, and especially FOR YOU! For this recommendation, you will automatically receive a voucher for your own purchases.
AND THAT'S HOW IT WORKS:
Just create a customer account and log in. Everything is already done for you. In the customer area, you will find a menu item that says "My recommendations" with all of the details, such as your € Premium and your recommendation link to share. You can pass on your personal recommendation link via e-mail, share it on Facebook, or integrate it into your homepage, blog, or social media pages.
Our products are a sensation, and this is one of them. With our Recommendations Bonus Program, this item is now cheaper or even FREE. And this is how it works: below, you will find a personal "Recommendation URL". This link is the key. Paste this link into an e-mail and send it to dear people who are also interested. Or, share the link on Facebook, Twitter, or Google+. Alternatively, you can take the general Recommendation Link from your Customer Area.
If your recommendation is successful and brings a new customer, we will offer you a 5% discount on your next order as a thank you. We have products that are appreciated by many people. Recommend us more and benefit from our gratitude in euros!
Tip: Automate your discounts. Integrate your Recommendation Link into your homepage, blog, or social media sites as well.
Whc unocardio 1000 витамин d 1000
Fish oil is a type of fatty acid derived from the tissues of oily fish – salmon, fresh tuna, mackerel, sardines, trout, herring etc. A rich source of omega-3 fatty acids, these oily fish contribute to a whole host of important physiological functions.
Although our bodies are able to make most of the fats we need, that's not the case for omega-3 fatty acids. Indeed, they're often labelled 'essential' because we must derive them from omega-3 foods or supplements.
UnoCardio 1000 contains an abundance of EPA and DHA from omega-3 fish oils. In fact, one softgel contains 675mg of EPA and 460mg of DHA – more than enough to meet your daily targets and ensure their valuable contribution towards optimum physiological health. What's more, each softgel employs 25 mcg (1,000 IU) of natural vitamin D3, over 100% of your daily requirement.
So, what do fish oils help with specifically? Well, as stated above, EPA and DHA contribute to the normal function of the heart , while DHA contributes to the maintenance of normal brain function and vision. Maternal DHA also contributes to the normal brain development of the foetus and breastfed infants and to the normal development of the eye of the foetus and breastfed infants.
Fish Oil During Pregnancy
Pregnant and lactating women can especially benefit from consuming fish oils, as outlined above. The beneficial effect is obtained from a daily intake of 200 mg DHA in addition to the recommended daily intake for omega-3 fatty acids (250 mg DHA+EPA).
Of course, you should always consult your doctor before consuming fish oil during pregnancy. You should also consult your doctor if you are taking blood thinners.
A Few Facts
• 2 UnoCardio 1000 softgels contain as much EPA/DHA as 100 g anchovies or herring
• 100 g anchovies or herring are equivalent to 20 krill oil capsules
WHC fish oils are certified from sustainable fisheries and sourced exclusively from non-endangered fish species. They contain no fillers or binders whatsoever.
To see the great difference between our products and other similar products on the market, click here.
Ingredients
Deep sea fish oil rTG concentrate (from sustainably sourced sardine, herring, mackerel and anchovy from Peru & Chile), fish gelatine, humectant: glycerol, natural orange flavour, antioxidant: a balanced mix of rosemary and tocopherol rich extracts, cholecalciferol.
Usage
Quickly raise your Omega-3 index to a healthy level with one UnoCardio 1000 softgel per day. Do not exceed a daily intake of 5g of EPA and DHA combined.
Keep out of reach of small children. Food supplements are not a replacement for a varied and balanced diet or healthy lifestyle.
Supplement Facts
Nutritional Value per Softgel
Omega-3 Fatty Acids (as Triglyceride)
Vitamin D3 (Cholecalciferol)
25 mcg (1000 IU, 250% RDA)
Q: What is fish oil?
A: Fish oil is made from the fats of small fish such as mackerel, sardines, herring etc. Fish oil comprises the beneficial fatty acids EPA & DHA, which carry many scientifically proven health benefits. It is commonly used to raise one's omega-3 intake and helps to maintain normal vision, heart and brain function.
Not all fish oil supplements are equal, with factors such as purity, manufacturing process and fish species determining quality. Many fish oils provide just 30% omega-3, with 18% coming from EPA and 12% from DHA. This means that the remaining 70% of the capsule consists of unnecessary or perhaps even unhealthy fats. Impurities such as heavy metals and PCBs are a common problem among cheap fish oil supplements.
Even concentrated fish oils are made as ethyl esters, containing 60% to 80% omega-3. Although the omega concentration is higher, these fatty acids are not in a very bioavailable form and still contain up to 40% unnecessary or unhealthy fats.
Highly concentrated fish oils, meanwhile, are extremely rare and contain 90% to 95% omega-3. These are not made as ethyl esters but are available in a superior, more bio-available form, r-triglyceride (rTG). These oils supply the greatest amount of EPA and DHA per softgel and are of the highest purity available. UnoCardio 1000 contains a minimum of 95% omega-3.
Q: What makes WHC fish oils different?
A: Ever since Jo Wyckmans founded WHC, his passion has been to supply the "best of the best" omegas on the market. Small-species fish (less prone to absorbing toxins) naturally sourced from waters off the South Pacific coast and concentrated via an environmentally-friendly distillation process, WHC omegas contain the highest proportion of essential fatty acids DHA (docosahexaenoic acid) and EPA (eicosapentaenoic acid).
The health benefits of essential fatty acids have been scientifically proven in countless studies over a number of years. WHC's supplements contain 90-95% omega-3 in a single softgel, equivalent to 3-10 standard fish oil softgels.
While most concentrated fish oils on the market are in the ethyl ester form (a synthetic fat), WHC's formulas are produced in true r-triglyceride (rTG) form. Research has proven the bioavailability of the r-triglyceride form to be vastly superior – up to 70% greater than ethyl esters.
Q: What are EPA and DHA?
A: EPA and the DHA are the fatty acids associated with the most commonly-cited benefits.
The human body synthesises EPA and DHA poorly, which is why they must be obtained from food or omega supplements. Both EPA and DHA play an essential role in the maintenance of overall wellbeing. A healthy daily consumption of EPA and DHA may vary from 250mg up to 3g. DHA is one of the most crucial fatty acids in the brain and retina of the eye, which accounts for why it contributes to the maintenance of brain health and vision when consumed at 250mg per day.
In some cases, DHA and EPA have combined benefits. For example, both contribute towards the normal function of the heart (at least 250mg per day) as well as the maintenance of normal blood triglyceride levels (2g/day) and normal blood pressure (3g/day). One should not exceed a supplemental daily intake of 5g of EPA and DHA combined.
Only by regularly eating oily fish, or taking omega-3 supplements such as UnoCardio X2 or UnoCardio 1000, can we achieve a balanced Omega-3 Index of over 8%.
Q: Is cod liver oil a good alternative to fish oil?
A: For many, 'fish oil' is synonymous with 'cod liver oil'. However, the fish oil discussed here has little or no connection with cod liver oil. It is actually quite harmful to consume large amounts of cod liver oil if your goal is to elevate your omega-3 intake. This is because many cod liver oils products contain high levels of vitamin A. More than an average of 1.5mg a day of vitamin A may make your bones more likely to fracture when you're older; if you are pregnant, large amounts of vitamin A can harm your unborn baby. The European Food Safety Authority clearly stipulates that Europeans already consume sufficient vitamin A via their diet, so this particular vitamin is no longer appropriate for food enrichment and supplements.
Q: What about krill oil?
A: Some people consider krill oil to be a valid alternative to omega-3 fish oil, due to the purported 'enhanced' bioavailability of its phospholipid form. As the name indicates, it is derived from krill, tiny crustaceans found in the Arctic Ocean. However, the relatively low dose of EPA and DHA means that it is extremely difficult to significantly elevate your blood plasma levels of omega-3 to have a tangible therapeutic effect. Indeed, krill oil only has around 12% omega-3, 15 times less than is found in WHC fish oils.
In one study comparing manufacturer-recommended doses of rTG fish oil, ethyl ester fish oil, TG omega-3 from salmon oil and phospholipid from krill oil, the Omega-3 Index was increased most dramatically by the rTG fish oil (approx. 58% increase), with krill being the least effective (only 11% increase).
Q: Can't we just eat oily fish instead of taking supplements?
A: Oily fish is a great source of omega-3s, leading many to wonder whether they need to supplement at all. However, while it's true that you can get all the omega-3 you need from eating oily fish such as herring or anchovies, the pollution of our oceans means we would do well to somewhat limit our fish consumption ( NHS recommendations state we should eat no more than 4 portions of oily fish a week and only 2 if pregnant or breast feeding. ) Fish accumulate mercury and other heavy metals over time; they have also been found to contain microplastics, and some fish and shellfish can accumulate illness-causing microorganisms like bacteria and viruses too. A fish oil supplement which has been extensively tested for contaminants is a good alternative, although eating modest quantities of oily fish is still recommended.
In any case, most Westerners do not consume enough omega-3 via their diet, meaning supplementation is required to achieve levels recommended by government and health officials.
Q: What should I look for in a fish oil supplement?
A: When making your fish oil purchase, you should look for a product which contains high levels of EPA and DHA per serving; uses small-species, sustainable fish; is made by a reputable manufacturer who follows good manufacturing practices (GMPs) and has achieved an appreciable rating from the IFOSP (International Fish Oil Standards Program); and which contains no, or barely detectable traces of, contaminants.
If you have a question which is not answered here, do not hesitate to contact us. We are always glad to help!
Feefo Reviews
19 reviews for this product Product rating

Star Rating
Comments
16-Nov-2019
This is an excellent product (have used for some time now).
30-Jul-2019
Excellent delivery and perfect product. Thanks so much
Our Response
COUNT;?>»/>Thank you for taking the time to leave a review of our UnoCardio 1000. We are delighted that you are happy with this product and with our service at Water for Health.
24-Jun-2019
that was ok, lovely product
21-Jun-2019
Excellent as always, great quality product, rated very high by labdoor iirc
21-Jun-2019
Healthy supplements and it also make my digestion system better
26-Apr-2019
Prompt response to my requests via email all the time and very helpful.
01-Apr-2019
Best fish oil supplement with the highest EPA/DHA content
12-Mar-2019
The commodity has the question to be able to help me to process immediately, again and sends a box to give me, service attitude 100%
11-Jan-2019
very fast shipping! thank you
20-Dec-2018
Fast delivery best product
17-Dec-2018
Energizing!
.
17-Oct-2018
Only been taking this for ten days but so far so good.
24-Sep-2018
Excellent quality product
Our Response
COUNT;?>»/>Thank you for taking the time to leave a review of our Uno Cardio 1000 fish oil capsules. We are delighted that you are happy with them.
03-Aug-2018
Omega 3 and Vitamin D in one capsule + Maximum Vibrance is a great combination
28-Jun-2018
Great product, best on the market.
Our Response
COUNT;?>»/>Many thanks for taking the time to review our UnoCardio 1000, we are very pleased that you are happy with it.
13-Dec-2017
I've been taking UnoCardio 1000 for a while now and currently nursing a new baby. Hoping these supplements will help brain development.
03-Aug-2017
These are excellent, when I first read about them I checked to see if they were suitable as I had an allergy, Water for Health checked to make sure they were, and I have used them ever since.
Our Response
COUNT;?>»/>Thank you for your review of our Unocardio 1000 fish oil. We are happy that you are pleased with the product.
28-Jul-2017
I have felt the benefit of taking these.
Our Response
COUNT;?>»/>Thank you for your review of our Uno Cardio 1000, we are happy that you feel the benefit of taking them.
27-Jul-2017
fornitore sicuro ed affidabile
Read more reviews on Feefo
—>
Guarantee
Our 7 Point Guarantee
At Water for Health we want prospective clients to buy from us with confidence. Our mission is to make a difference in the quality of life of as many people we can. We have very many customers who tell us we have made a difference to them, and this inspires us to continue to do what we do. To underpin our commitment, we offer the following 7 point guarantee.
1. Customer Service
We always endeavour to treat our clients and prospective clients respectfully. We constantly strive to offer a caring attitude and knowledgeable service. Our approach is to treat others the way we would like to be treated ourselves. We are available at the end of the phone, or by email, to discuss your requirements and concerns with a high degree of product expertise, confidentiality and professionalism. We can be reached by phone Monday to Thursday between 8.45am and 5.30pm, and between 8.45am and 5.30pm on Fridays, on 01764 662111.
2. 100% Money-Back Guarantee
We want all our clients to be happy with any product they buy from us. If, however, you purchase a product that does not meet your expectations, we will refund your purchase cost at any time within 3 months if you are unhappy with it. It is your responsibility to notify us by phone or email first, then send the product or remaining product and/or packaging to our UK address. We will process your money back promptly (that's all the small print!).
3. Performance
With the equipment we supply, we warrant that the product will remain in working order for the life of the guarantee. In the unlikely event that your product malfunctions within the guarantee timeframe, we'll replace it with the same model, or discuss an alternative with you if it is no longer available.
If it is a food product or dietary supplement you buy, the results can be varied depending on a wide variety of factors. The benefit will vary from person to person, as can the period before benefit is felt. We endeavour to source quality products from suppliers who have a similar ethos to ourselves. Should you wish to know which product might be most suitable for you, please feel free to call or email as we are always happy to help. Please note we do not offer medical advice but are always pleased to point clients in the direction of resources that may be of value.
4. Delivery
At Water for Health we aim to dispatch your order within 48 hours of receipt. This is often done the same day, subject to the product being in stock. However, we import products from all over the world and there can be times when we might briefly be out of stock with a product due to timescales from ordering to delivery. Should the item be out of stock, we will notify you within one working day to provide a delivery date. If you have a special delivery requirement, please call us on 01764 662111 prior to placing your order and we will do our best to assist. You can read more about our estimated delivery timescales here.
5. Security & Privacy
With an increasing threat of identity theft, we realise that security is of paramount importance. Be assured that your safety is protected with state-of-the-art Secure Socket Layer (SSL) technology that encrypts sensitive information on both your browser and our server. You'll know that the checkout process is secure when you see an 's' following the normal 'http' designation in the URL address bar. All payments are processed through Sagepay, the UK's biggest payment gateway and renowned for their security.
6. Purity and Innovation
We are continually trying to source and develop new lines of products which can make a difference to the lives of our customers. We believe the products we sell are some of the best on the market. We are selective in the brands which we stock. We look for products that use high-quality ingredients and we are against the use of fillers, herbicides, pesticides, artificial colourings and flavourings to name but a few. These values are not only important to us but also to our suppliers.
7. Education
We understand the wealth of information and mis-information available on the subject of health. This is something we try to cut through ourselves, to be able to offer a knowledgeable service to our clients. We believe in the importance of being informed. As Water for Health is striving to provide products to improve the quality of life of its customers, the following quote by Albert Einstein is very fitting: "We believe that an informed citizenry will act for life and not for death." To be able to do this, we send an optional newsletter, write articles and provide other information to our customers through our blog.
Le informamos que desafortunadamente, Shop-Farmacia.es ha dejado de existir.
Si tiene alguna consulta referente a un pedido o factura, puede ponerse en contacto con nuestro servicio de atención al cliente a través del email contacto@shop-farmacia.es o de forma telefónica llamando al número 900-802 631 (Gratis desde la red fija y móvil Española de lunes a viernes: de 09:00 a 18:00)
Sus datos personales seguirán almacenados hasta el 31 de marzo de 2020, cuales serán eliminados posteriormente.
¡El equipo de Shop Farmacia le desea lo major!
Contacto
Lun — Vie: 9-18h
Menciones legales
Identidad de la sociedad
El sitio www.shop-farmacia.es está gestionado por la sociedad Shop-Apotheke B.V., sociedad anónima de responsabilidad limitada de derecho holandés y con capital social de 18.000 €, con domicilio social en Dirk Hartogweg 14, NL-5928 LV Venlo, Países Bajos, inscrita en el Registro Mercantil de Venlo con número 63956004.
Representantes legales y directores de la publicación: Stefan Feltens, Stephan Weber, Theresa Holler, Marc Fischer
Número de IVA intra-comunitario: NL-8554.67.903.B01
Farmacéutico responsable:
Theresa Holler
(Título profesional oficial: farmacéutica, inscrito en el registro de farmacia holandés con número 99054129717).
Título obtenido en Alemania por la administración encargada de los Asuntos Sociales de Salud y Juventud del Land de Rhénanie-Palatinat.
Autoridad de supervisión:
Staatstoezicht op de Volksgezondheid — Inspectie voor de Gezondheidszorg, Regio Zuidoost Stadsplateau 1, 3521 AZ Utrecht, Países Bajos.
El sitio web oficial de las farmacias registradas en los Países Bajos, disponible aquí.
puede contactar con nuestro servicio de atención al cliente por correo electrónico a la dirección contacto@shop-farmacia.es o por teléfono al 900 802 631 de lunes a viernes de 9h a 18h.
Reclamaciones:
En caso de reclamaciones le invitamos a dirigirse a nuestro servicio de atención al cliente, cuyos detalles se indican más abajo. En caso de litigio, tiene también la posibilidad de dirigirse a la plataforma de resolución de litigios en línea puesta a disposición por la Comisión Europea en http://ec.europa.eu/consumers/odr.
Estamos obligados a participar en la resolución de conflictos con la junta de conciliación holandesa responsable de los consumidores (Geschillencommissie Zorg Algemeen, Postbus 90600, 2509 LP Den Haag, Países Bajos, https://www.degeschillencommissiezorg.nl/english/) para los casos de venta de medicamentos y dispositivos médicos.
Responsable de la protección de datos: